PRODUCTS. OTHER TYPES OF VALVES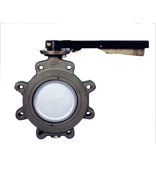 Thanks to the reliable and strong relationships with the most important manufacturers and dealers worldwide and to our own production marked LUNA, we can supply at an interesting level of price, quality and delivery time, many different types of industrial valves such as:

--- Butterfly valves
--- Plug valves
--- Diaphragm valves
--- Control valves
--- Needle valves
--- Knife valves
--- Brass, bronze valves

in any material or execution required both for standard and critical applications.
Each valve is supplied with inspection and test materials certifications according to the relevant standards and specifications.

Forged steel valves - Cast steel valves - Ball valves - Other types of valves - Other products